Your Pet's PetfetchID Profile
(This Text Stays Arrange Accordingly) 


Making sure your pet is safe is our top priority! With each PetFetch tag, you'll be able to build a pet profile for your furry friend. If your pet has a tendency to wander their PetFetch ID will ensure that they get home safe! With PetFetch you have two options for recovering a missing pet:

1. You can choose to be completely anonymous and use the online retrieval system on PetFetchID to reunite yourself with your missing pet. This works by connecting the finder of a missing pet with their owner via the anonymous chat system on PetFetchID.com

2. You can choose to create a detailed pet profile with as much information as you'd like to share about yourself and your pet. This is especially useful if you travel with your pet or you change phone numbers as you can update your pet profile anywhere in the world and at any time!
This Will be the image of the new dog. 

Ref: Pet-Dog-1

I've sent the image in the attached email. This is linked to my PetfechID profile which is also linked. 
You can leave as much or as little information in your pet profile as you wish, but if you decide to fill it out here are a few things that we suggest for building a comprehensive and perfect PetFetchID profile.



I've sent the icons in an attached email - each icon correspondes to the text and the names below, which are numbered for ease) 



Pet Name (ref 1. pet-namebuy)
Pet Picture (ref 2. Pet-picture-free)
Your Location (ref 3.Pet Location-free)
Your Number (ref 4. Phonenumber-Free)
Your Adress (ref 5.Address-free)
Your Email (ref 6.Email)
Pet's Allergies (ref 7.Pet-Allergies-buy) 
Pet's Medical Needs (ref 8. Medical-History-buy) 


When the finder of your missing pet puts your unique pet tag ID into the petfetchid.com retrieval system they'll have full access to all the information you've shared about your pet and can choose to contact you via the PetfetchID retreival system or through any manner you have requested in your pet profile.  
Anything you can do with the below image to make it look half decent would be amazing... 

The text above illustrates that when someone uses your PetFetchID they'll have a full link to your PetFetch profile. Again I've shared the login details to my profile in the email.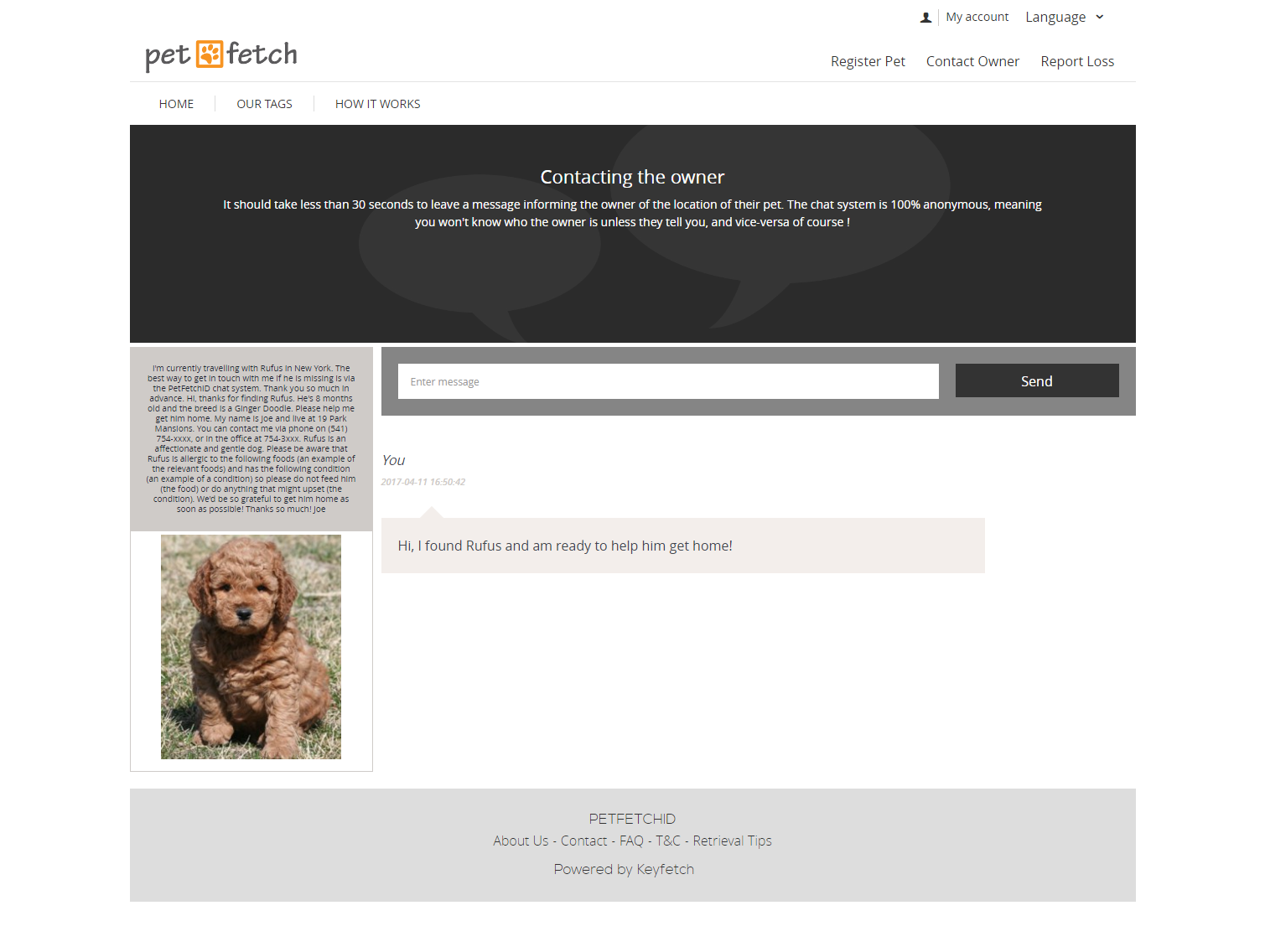 How to build your pet's profile
If you're ready to build your pet's profile follow these simple steps
See the attached power point document to see how I think this should look with text. Feel free to edit and reshape accordingly